Inrush current of 400/110kV transformers in substation Krško
Client: ELES, d.o.o.
In December 2013 one of two 400/110 kV transformers in substation Krško was fully operational, meanwhile a second one was being energized. A gradual transition into saturation of already operational transformer occurred as a consequence of a sympathetic inrush effect. The event was also captured by a national WAMS system. Our task was to comprehensively explain the phenomenon and provide suggestions for avoiding such event in the future.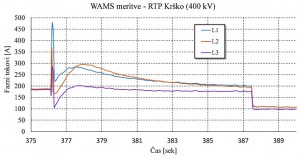 ---
A study of transient phenomenon and their impact on Slovenian power system
Client: ELES, d.o.o.
Note: in cooperation with EIMV
Wide area monitoring system (WAMS) turned out to be an excellent and reliable tool for off-line analysis of several transient phenomena that occur during power system operation. At the moment, WAMS is being used by experts at Slovenian transmission system operator ELES as well as many other operators from all over the world. Our task was to analyse the possibilities of upgrading WAMS system into Wide area monitoring, protection and control (WAMPAC) system, as close-to-real-time measurements are said to enable on-line protection and control interventions in the actual power system.